Share:
---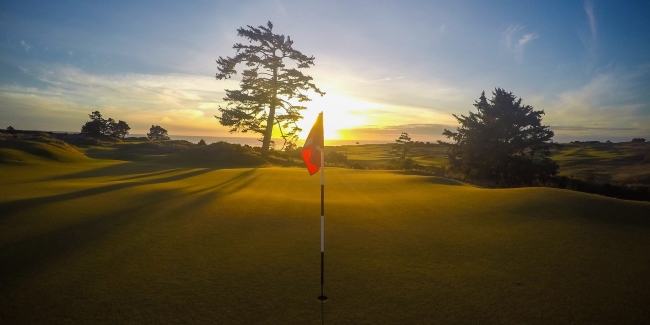 Bandon Dunes
My Recent Travels To Oregon
By Bruce Leonard
After factoring in the gentle rain, the cool temperature, the helping wind, the pin placement on the two-tiered green and how my physical ailments were affecting my swing that day, I pulled my six iron, then drilled the TaylorMade to 12 feet on the 181-yard par-3 fifth hole at Pacific Dunes.

In most golf venues, that much analysis would inevitably have led me to produce a duck-hook into the double-bogey zone, but the five courses that decorate the Oregon coast just north of the small town of Bandon require golfers to contemplate their options and accurately assess their games to a degree that traditional parkland courses don't. So careful strategizing makes perfect sense at Bandon Dunes Golf Resort.

Yes, wind and weather can be factors anywhere, but because Bandon Dunes, Pacific Dunes, Bandon Trails, Old MacDonald and Bandon Preserve are all true links courses - not simply inland treeless expanses called links-style courses - the mounds, swales, burms, bumps and undulations require golfers to calculate how they intend to play each hole to a degree rarely required elsewhere. Golfers who arrive with an arsenal of punch shots, have mastered the bump-and-run and consider creativity to be their fifteenth club will excell on any of the courses that comprise Bandon Dunes Golf Resort. Others will likely spend a lot of time searching for their balls in the plentiful gorse.

Aspiring to sainthood was not likely among Mike Keiser's goals when he decided to bring golf to a remote stretch of land overlooking the Pacific. Yet anyone who has made the trek to southern Oregon to tee it up on courses that rank higher than any other group of courses in the world will likely insist that Keiser should at least be inducted into the pantheon of golf greatness.

The sterling reputation of Bandon Dunes has spread throughout the world, and during my October visit an array of international golfers worked on their games on the extensive practice facility (which includes a challenging nine-hole par-3 course called Shorty's), selected golf souvenirs in the shops at each course, dined in the superb restaurants on property and stayed in the various on-site accommodations.

In addition to the resort's remoteness, one of the criticisms some golf writers have leveled against Bandon Dunes is that it does not include much nightlife - the antithesis of Myrtle Beach, for example. Yet this argument borders on the absurd, because McKee's Pub serves up camaraderie and libations, as do the various other bars on site, and the resort exists to showcase some of the best golf in the world, not to provide other distractions. In fact, as I stood on the first tee at Old MacDonald (which in my assessment offers by far the best first hole on the property), a woman missed her tee time. I asked a caddie how often that happens. "Fairly often," he replied, adding that people tend to drink too much and stay up too late, thereby missing out on one of their cherished rounds. In my book, considering the incomparable quality of Bandon Dunes' courses, that is worse than four putting.

Of course, four putting on Old MacDonald's greens, the largest in the world, is quite possible, because people don't usually have the opportunity to practice 60-yard putts.

If golfers find themselves scoring less well than they'd hoped because they repeatedly misread breaks, or they receive bounces on approach shots that send their balls into bunkers with faces bigger than those on Mount Rushmore, they should remind themselves where they are and how lucky they are to be there. It is called the game of golf, and there is no better place to play it.

Each course on property features holes so memorable that they may appear again in dreams. The 16th on Bandon Dunes delivers one of the great vistas anywhere, as well as requiring some strategic calculus. The third hole on Old MacDonald requires a blind tee shot over a huge sand dune, then delivers a fairway that seems to have been designed by Salvador Dalí. The 14th on Bandon Trails demands a stay-left thread-the-needle tee shot from its elevated tee, otherwise the approach will be severely uphill to a narrow green, the smallest on the course. The 9th on Bandon Preserve - which features 13 sublime short holes that make for a perfect warm up or warm down before or after testing one's game on the championship courses - serves up the Pacific like a visual dessert. And Pacific Dunes, the highest ranked of the courses on property and among the highest rated in the world, has too many interactions with the ocean, too many memorable vistas and too many amazing holes to single them out. In fact, doing so is like saying the best part of the Mona Lisa is the upper right quadrant. The holes on each course contribute to seamless golf experiences, so declaring any of them signature holes is to miss the big picture.

Bandon Preserve is the most recent addition to Bandon Dunes, and the course is touted as being a "course with a mission." The proceeds go to Wild Rivers Coast Alliance, a philanthropic arm of Bandon Dunes Golf Resort, that awards grants that promote a region in which healthy ecosystems drive a vibrant economy.
Fun is so prominently emphasized on the Preserve that it allows eightsomes. Obviously, speed of play may suffer, but jocularity, shot-making and scenery prevail. Golfers are encouraged to putt from the tee on the 13th and last hole, a 109-yard downhill rollercoaster that should be played far to the left. If people don't walk off that green smiling, they are likely taking themselves, their games and life too seriously.

Green fees on the four full-length courses during high season, June through September, for golfers not staying at the resort run $310, but resort guests and Oregon residents can play the courses in December for as little as $75, which, weather permitting, may be the best deal in the golf world.

Accommodations range from single rooms during the winter for $100 to four-bedroom cottages during high season for $1,900. In other words, golfers of whatever means can stay and play at Bandon Dunes, provided they invest in decent rain gear. I found the wet-weather gloves that I bought at the Pacific Dunes pro shop before my round to be indispensable. My playing partner, who did not opt for the gloves, repeatedly had his clubs slip in his hands, while I had to find other excuses for my up-and-down play.

I did, however, make the 12-footer for birdie on the fifth hole at Pacific Dunes, a development that made me agree completely with Bandon Dunes' slogan, "Golf as it was meant to be."

More Information:
www.bandondunesgolf.com
888-345-6008

Revised: 11/19/2015 - Article Viewed 102,217 Times - View Golf Course Profile
Share Comment
Written By: Bruce Leonard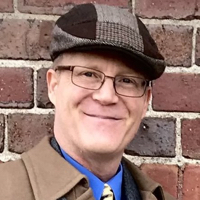 Bruce Leonard has been a freelance writer/photographer specializing in adventure travel for two decades,
his work having been published in dozens of publications, including the Robb Report, Playboy, Travel+Leisure Golf,
National Parks and the L.A. Weekly. His first solo art show recently closed, and his writing,
photos and paintings can be found at freelanced.com/bruceleonard.